Children With Flat Feet: How to Prepare Them for A Podiatry Visit?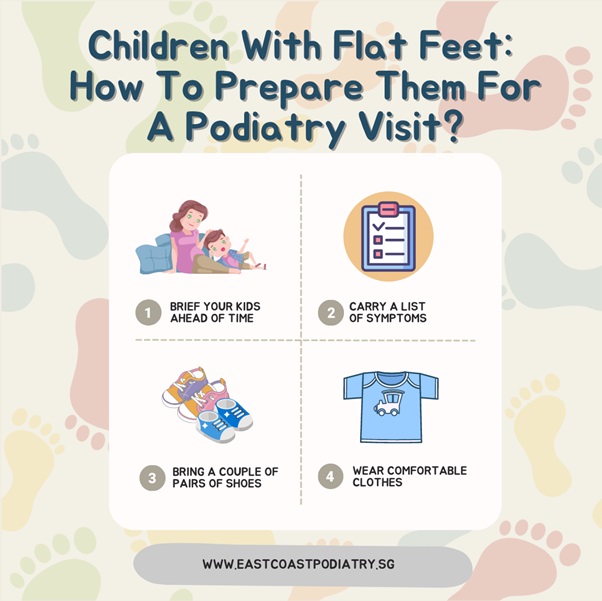 Flat feet. These two words describe a common foot condition affecting almost 20% to 30% of the population. Oxford University Hospital said that 95% of flat feet in children often grow out of this and develop a normal arch over time.
To guarantee your kids will not have flat feet in the future, bring them to a podiatrist. They are a food doctor that can treat any foot problems.
Below are some tips for preparing your kids for a podiatry visit for their flat feet.
1. BRIEF YOUR KIDS AHEAD OF TIME
Like adults, children are also afraid to go to a doctor because they have thought of getting an injection. Thus, explain to your kids that they will be seeing a foot doctor to say goodbye to their flat feet.
2. CARRY A LIST OF SYMPTOMS
Like other foot problems, flat feet also have symptoms. Every time your children say it hurts, ask them specifically what they feel and note that down. Your notes will help the foot doctor assess your children's foot problems.
3. BRING A COUPLE OF PAIRS OF SHOES
Getting insoles in Singapore is one of the most common treatments for flat feet. Before the foot doctor can recommend that, they need to see your children's footwear and use it as a reference to make the perfect fit of insoles.
4. WEAR COMFORTABLE CLOTHES
Your children have to since resting insoles require moulding the feet. The foot doctor might need to mould it from the ankle to get the entire foot measurement of your kids.
The preparation is the same when getting plantar warts removal in Singapore and other treatment for foot problems.
If you have not found a podiatrist who can treat the flat feet of your kids, go to ECPC. This podiatry clinic will help to make your children feel better in no time.