Get Healthy Glowing Skin and Silky Strong Hair – Take Eazol Health Tonic 300ml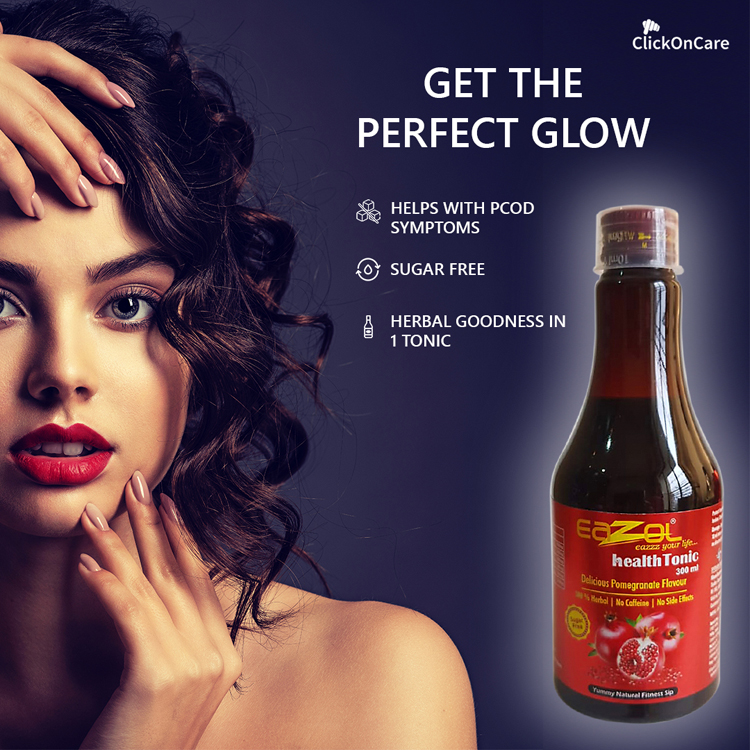 Eazol health tonic is best known for its detoxification factor.

It is a pomegranate-based tonic and does not contain any added sugar in it.

Its detoxification effect will remove harmful free radicals from your skin layer, which then offers a healthy and glowing skin.

The tonic is also known for its immunity boosting effect.

When taken at suggested dosage, it can offer adequate nutrition to your body.

It is best known for having many antioxidant ingredients.

It prevents the formation of pimples or acne on your skin.

It is suited to people of all ages.

With proper dosage, you will surely enjoy strong and shiny hair in the long run.

The sugar free factor makes it ideal for everyone to take the tonic on a daily basis.

Eazol can be purchased for only 250 rupees.
Eazol Tonic is a Pomegranate based herbal drink. It is rich in many herbal ingredients and is best known as an age-old remedy for many ailments. When taken at suggested dosages, you will not only experience a glowing skin layer, but healthy and silky smooth and strong hair as well.
Eazol health tonic does not contain any added sugar content in it and is best suited for people belonging to all age group, and specially those with diabetic issues. The added benefits of taking this drink include toxins removal and body detoxification, by the removal of negative free radicals from the body.
Benefits of Eazol Health Tonic to Your Body
It is suitable for people of all age group.

It is the best kind of immunity booster.

There is no caffeine content in the tonic, and hence no chances of experiencing any kinds of side effects.

You can maintain the right weight according to your body structure.

It is sugar free.

The ingredients are chosen in such a way that each ingredient is the best choice for maintaining healthy glowing skin.

It is an herbal product and does not contain any chemical ingredients.

Fatigue is a common symptom in the diabetic people. It helps with fighting fatigue.

Reduces the chances of dental plaque formation.

Stomach disorders are avoided.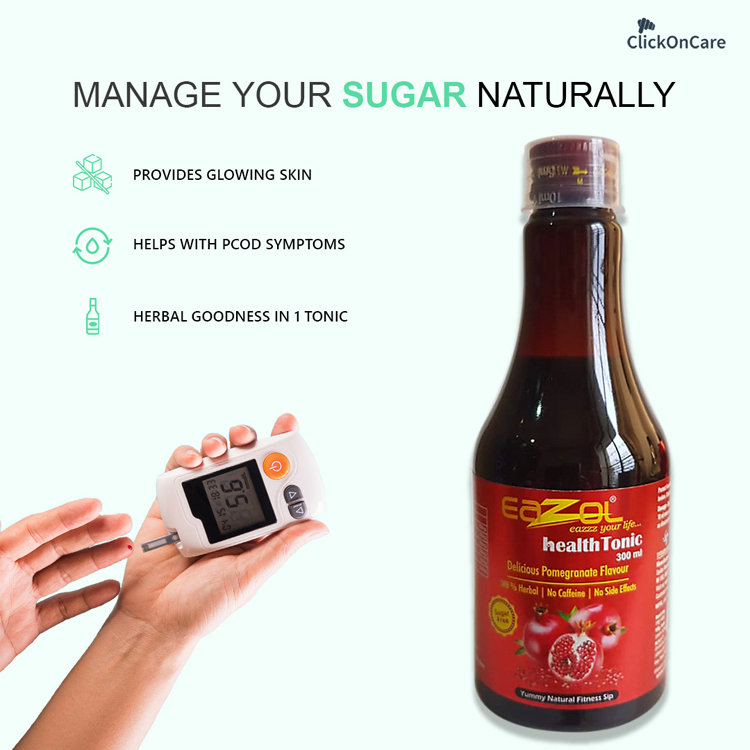 Directions of Usage
The suggested dosage of Eazol Health Tonic 300ml is 10ml once or twice a day. You can try 10ml per day to start slow and see how your body reacts to the tonic.
Key Ingredients
The key ingredients present in Eazol Health tonic are Ashwagandha extract (Withania somnifera), Amla extract (Phyllanthus emblica), Safed musli extract (Chlorophytum borivilianum), Dadim extract (Punica granatum) and Shatavari extract (Aspharagus racemosus).
Composition
Every 10ml dosage contains 300mg Brahmi extract, 160mg Sugar Syrup base (QS) FOS (Fructooligosaccharides) which is a sugar substitute, 200mg Shatawari extract, 200mg Safed musli extract, 200mg Amla extract, Aswagandha extract and 200mg Dadim extract.
For shiny hair tips and healthy skin tips,